Ribbon: White with dark red edges and edge stripes, and a purple-edged white central stripe.

Instituted: Unknown.
Awarded: To any member of the SAF for exceptionally distinguished service or extraordinary merit in military command or staff work. In special circumstances, the Medal may be awarded to any person for his outstanding service in the promotion of good relations between the SAF and the military force of his country.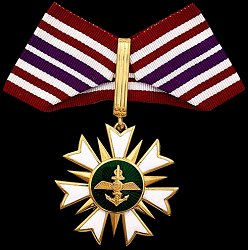 Sorry - no picture of reverse