Ribbon: Purple with a white central stripe bearing a red stripe and flanked by narrow white stripes.

Instituted: 1970.
Revised: 2 August 1996.
Awarded: To members of the SAF, SPF or SCDF who has performed acts of exceptional courage and skill or exhibited conspicuous devotion to duty in circumstances of extreme danger.
Post-nominal letters: BT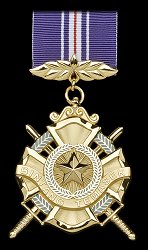 Sorry - no picture of reverse