Ribbon: Crimson with a central purple stripe and white edge stripes.

Instituted: September 1999 by Queen Elizabeth II, replacing the Distinguished Service Cross, the Military Cross, the Distinguished Flying Cross, the Air Force Cross, the Distinguished Service Medal, the Military Medal, the Distinguished Flying Medal, and the Air Force Medal.
Awarded: For acts of exceptional gallantry in situations of danger.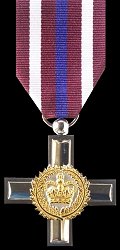 Sorry - no picture of reverse