Ribbon: Green with a central black stripe and narrower black edge stripes.

Instituted: 25 February 1944.
Awarded: To Belgian citizens who, during World War 2, escaped from occupied Belgium, from another occupied land or from Germany and that had gone on to prove their patriotism by joining and serving with a resistance group, or had been imprisoned for a minimum of three months following an act of patriotism, or for having travelled clandestinely to participate in a Belgian action aimed at promoting the war against the enemy. Escaped prisoners of war were also eligible if they met the other requirements, and later it was extended to all Belgian citizens who travelled to the United Kingdom to serve in the war effort.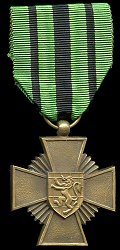 Sorry - no picture of reverse